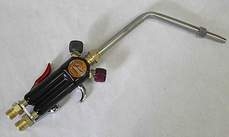 LiquiFire
Home > Products > TORCHES TIPS AND BURNERS > LiquiFire
Oxy/propane or natural gas, AB3B Air Blast Torch (shown above) and AB Air Blast Tips for use in die casting and similar industries. The mutli-orifice heating tip quickly melts low temp casting materials (such as aluminum and zinc) and the air blast removes the material from the die.

Features and Benefits:
*Combination heating and air blast torch quickly clears dies.
*Torch and tips are fueled by either low cost propane or natural gas and oxygen.
*Reduced flame temperature compared to oxy/acetylene torches reduces damage to expensive tool steel dies.
*Replaceable Air Blast tips available in a range of sizes.