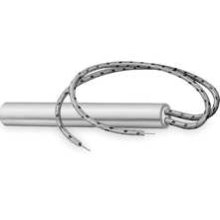 CARTRIDGE HEATERS
Home > Products > CARTRIDGE HEATERS
Avaliable in HIGH and LOW watt density
Firebrand® Hi-Watt Density cartridge heaters are highly compacted by swaging. This provides a dense, uniform refractory insulation with excellent heat transfer and dielectric strength. Constructed using Incoloy sheaths and 80-20 nichrome resistance wire these versatile heaters are ideal for high temperature applications.
Typical Applications:
Dies, platens, molds, sealing equipment, plastic molding, rubber molding, and hot knives.
Call for pricing 440-937-7979
Sizes & Ratings: 1/4", 3/8", 1/2", 5/8", 3/4"
Lengths: 1-1/2" to 48" (standard)
Volts: 120V - 240
Watts: 50W - 5000W
{Custom Rating Available on request}
No products found