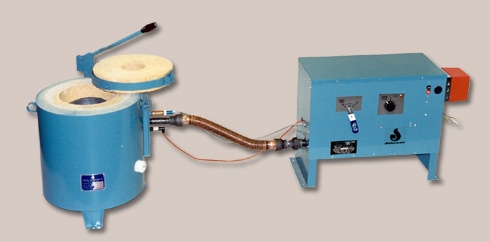 ASSAYING FURNACES
Home > Products > ASSAYING FURNACES
These rugged, highly efficient furnaces are designed for melting metals such as aluminum, brass, silver and gold. They combine fast melting with simple, quiet operation.

The furnaces are made of heavy gauge steel. The furnace linings are of the highest quality super-duty hard-burned firebrick backed with over 2" of high temperature insulation to reduce heat loss and provide comfortable working conditions.

The controls, blower, and safety equipment are contained in an attractive, adjustable metal console. The console is protected from dust and shop hazards. The console is specially sound-proofed for quiet operation. Other features include: push-button lighting, low furnace height, and a special furnace lid that allows the operator to charge the crucible through the lid and Safety Systems.
Click Here to view our Kilns.
Part Number: Black Box 225
Size: 250 Hand Tilt
Availability: 2-4 weeks
Part Number: DKS 900
Size: 900*
Availability: 3-4 weeks or sooner
Part Number: DKS-TL150
Size: 150
Availability: 12-16 weeks ARO