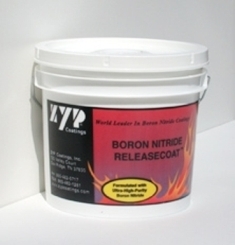 Boron Nitride Release Coat
Home > Products > COATINGS- LADLE AND MOLD > Boron Nitride Release Coat
For Permanent Mold or Low Pressure Casting.
Teflon like release for easy casting removal and cosmetic surface finish.
Apply your regular brand of thermal coating.\
Apply top coating of ReleaseCoat for maximum release and surface finish. Is easily air-sprayed onto hot or cold molds using any spray equipment.
Safe, water based, non-toxic and emits only water vapor heating. Dries on contact with hold molds.
Part Number: 998BNRELEASECOAT
Size: 1 gallon
Availability: stock