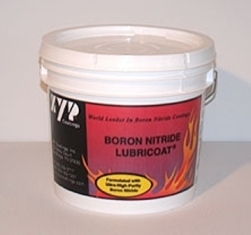 Boron Nitride Lubricoat
Home > Products > COATINGS- LADLE AND MOLD > Boron Nitride Lubricoat
Total protection from Molten Aluminum, Magnesium, and their drosses
Ideal for auto ladles .
Acts like Teflon to Molten Metal. Protects Ceramics, Metals and Graphite. Ideal for Permanent Molds, Ladles, Troughs & Tubes, Molds, Fixtures, Furnances, Funnels & Spouts. Stop Dross
Sticking in Dross Presses. Simply apply a generous layer onto the dross head and the complete head and tip will have perfect release. Long Lasting, coat once for up to 50 cycles. Simple and easy to apply by spraying onto the hot dross head. Water based - applies just like housepaint. Dross merely lifts off the dross head. Dross does not adhere or stick. No downtime for difficult dross removal.
Part Number: 996BNLUBRICOAT
Size: 1 gallon
Availability: stock