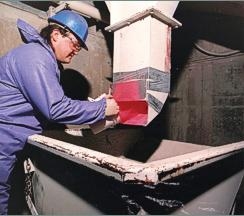 Baghouse LEAK Detection
Home > Products > BAG HOUSES AND EQUIPMENT > Baghouse LEAK Detection
DYKAST supply offers a complete line of "LEAK DETECTION"
Cuts detection time by 90 %
Safe and easy to use .
This easy to use, non-toxic powder comes in 9 different fluorescent colors that light up under ultra-violet black light. When added to the dirty air side of a baghouse, the powder easily identifies leaks in bags, seams and welds. Works for wire cage, shaker, reverse air and cartridge type collectors. Use the Baby Blue 3 light kit with special glasses to identify the leaks.
Using our speciality formulated fluorescent powder and an ultra-violet black light eliminates the need for time consuming hand-eye inspection.
Part Number: Black light
Size: Bb3
Availability: 3-5 days
Part Number: LEAK CHASER
Size: 5 lbs
Availability: 3-5 days